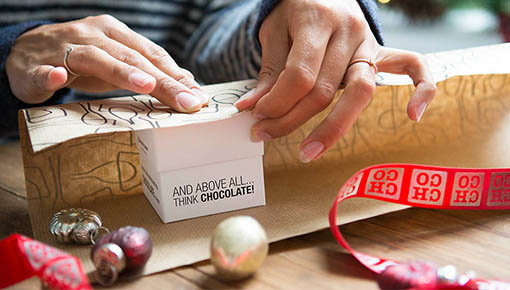 We celebrate New Year's Eve with chocolate!
Ring in the new year with the tastiest champagne truffles, chocolates and much more!
Read more
New Year's Eve chocolate
Chocolate is always a favorite, but also with the holidays and New Years Eve chocolate is certainly part of that. Ring in the new year together with the most delicious chocolate with a cup of coffee, tea, a glass of champagne or just straight out of the box: delicious! Our artisan chocolates , Sparkling Bubbles Hotchocspoon and champagne truffles are the ideal set of chocolates for New Year's Eve. Both for yourself and gifts for friends and family, because we also wish our loved ones the sweetest end of this year and the beginning of the new year! We also have more fun, festive and tasty chocolate to spice up the party. OurChocfondues (also available with a bain-marie fondue set ) are also a perfect party dessert for a large group – or just you, we don't judge – in which you can dip delicious cookies, marshmallows and fresh fruit. If you want to conjure up beautiful chocolate curls on the festive table with our Choctwist (can also be ordered with Curler), you can do that too. Quality chocolate for a real luxurious (party) feeling!
Order New Year's chocolate online
Now that Sinterklaas and Christmas are over, we have one last party to celebrate this year in which chocolate plays a leading role. This can sometimes be forgotten by the Christmas rush, but don't worry: we think along with you! You can order your New Year's chocolate - such as our delicious champagne truffles with a creamy ganache filling - on weekdays before 14:00 and you will receive it the next day. No rush, no loss, just order New Year's chocolate online now and from tomorrow enjoy your chocolate. You can also have your chocolate wrapped in gift wrap with a nice bow around it or have your New Year's chocolate sent in our eco bag with a nice chocolate quote on it. Choose a postcard and leave a message for the recipient while ordering and you have a nice and especially delicious chocolate present for New Years. If you want to order several gifts for New Year's Eve, it's also nice to know that your order will be shipped for free from 30 euros!