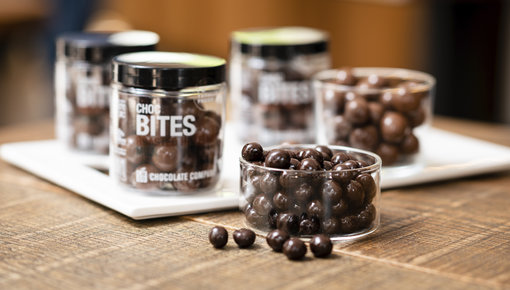 Delicious bites made from the tastiest chocolate.
Enjoy delicious crunchy caramel sticks, hazelnuts covered with chocolate or chocolate coffee beans; these choc bites are the perfect bites for every moment of the day.
Read more
Chocbites in the range
In addition to our handmade bonbons, creamy chocolate truffles and other delicacies, we have also added delicious chocolate bites in 5 different varieties to our CHCO assortment. Chocbites in bar form, such as the crunchy caramel sticks covered with milk chocolate or in a dark chocolate version. Or would you prefer delicious roasted hazelnuts covered with milk chocolate or dark chocolate? That's possible too! In addition, we have added a fifth chocbites jar to the range: chocolate coffee beans. These crunchy coffee beans with a chocolate coating are a real delight for coffee and chocolate lovers. Enjoying a game of chocbites while reading a book, watching a movie or socializing with a friend; everyone likes that! Also not unimportant to know: our chocolate products are made with Cacao-Trace chocolate and with this program we all try to strive for more sustainability, honesty and delicious chocolate in the entire cocoa chain. So order the chocbites for yourself or someone else and enjoy tomorrow. Ordering on weekdays until 2 pm means that it will be delivered the next day.
Buy chocbites to give as a gift
Do you want a super nice - and tasty - gift? To let someone enjoy, to thank, to congratulate or just to enjoy yourself? Then choose our chocbites in different variations and order easily online. Do you want a card with a personal text? That is also possible! Add a card as desired, enter your message during the ordering process and have it delivered to your chosen delivery address. In addition to the chocbites, you can also choose other chocolate products from our range and have it packed together as a gift package in gift foil or in our ecotas with chocolate quote. Ordering your chocbites on weekdays until 2 p.m. means that it will be delivered the next day! During the warm summer period our chocbites can also be sent in boxes cooled with cooling elements! The chocbites happy, you happy. Enjoy it!