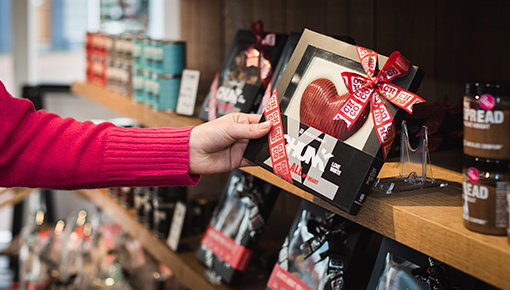 The tastiest Mother's Day chocolate!
Send an awesome mother on Mother's Day chocolate as a gift! Sweet bonbons, handmade chocbars and more tasty products.
Read more
Mother's day chocolate
Whether it is your own dear mother, a mother figure that you love very much or another topper of a mother who you would like to put in the spotlight; with our Mother's Day chocolate assortment you are in the right place! We have delicious handmade bonbons for Mother's Day in various bonbon boxes, such as a luxury black gift box with 15 delicious bonbons . If you want to give an old school box Mother's Day chocolate bonbons, you can do so with a 150 gram box, a 300 gram box, a 650 gram box or a mini with 5 delicious bonbons. If the appreciation for this sweet mom is over, you can also choose Mother's Day chocolate in the form of a chocolates Collection box or a mom's chocolate gift package with a love chocbar, love edition truffles, 2 bar bites and 5 sweet bonbons. If this mom likes a party, you can also give an au bain marie chocolate fondue set or a gift box with 3 Hotchocspoons to make the most delicious hot chocolate! We also have XL love choc bars for mums who are truly sweet-toothed and prefer to enjoy the chocolate for as long as possible! Available in milk, pure and white chocolate, so that the right Mother's Day chocolate is available for every mom.
Order Mother's Day chocolate online
You will find nice Mother's Day gifts in our range in the form of chocolate and you naturally want to have this chocolate delivered well. We take a Mother's Day package very seriously and that is why we have, for example, the option to deliver the Mother's Day chocolate the next day if you order up to 14 hours during the week. Sending your Mother's Day gift can also be chilled when the temperatures are high! We recommend that you choose ' send refrigerated ' if the temperature already exceeds 20 degrees. In the unlikely event that you have forgotten to send your Mother's Day chocolate chilled, we will of course do everything to make your Mother's Day gift delivery chilled. Do you want to add a personal message to your Mother's Day package? Add your gift message on the product page of your desired Mother's Day chocolate and choose a favorite card, then we ensure that your personal message arrives at the sweetest mother in the world!