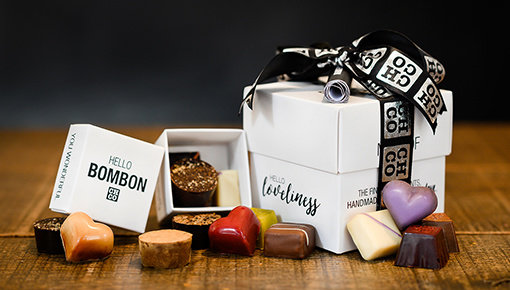 You show a sign of appreciation with the tastiest secretary chocolate gifts!
Choose a 300 gram candy box or a luxury gift box with your favorite bonbon series and surprise your secretary (s).
Read more
Chocolate for secretary day
Who doesn't like chocolate? Yes, nobody! A delicious piece of chocolate or tasty bonbon is always appreciated. What is more fun to show your appreciation with delicious chocolate to your secretary or secretary employee! For example, choose a box with handmade chocolates as a gift for your secretary. You can choose milk, pure or mix bonbons. Available in a box of 5 bonbons, a box of 150 grams of bonbons, an even larger box of 300 grams or a mega box of 650 grams of deliciously smooth bonbons. We also have luxury gift boxes, where you can choose from 5 different series: Classics, Originals, Delicious Delights, Forbidden Fruits and Nuts About You. Salty caramel, crispy almond, apple speculoos, coconut and vanilla are among the flavors in this series. If you want something other than secretary day bonbons, you can do that too. We also have truffle pots in 6 different flavors, 72% classic chocolate truffles in different grammages and champagne truffles that you can give as a secretary day chocolate gift. In addition, we also have a gift box with 3 different types of Hotchocspoons or a CHCO mug with a luxury alcohol Hotchocspoon to celebrate secretary's day!
Order Secretary Day chocolate in large quantities
Do you have more than 20 secretaries or even more than 50 secretary employees in the company? Then you can of course simply order through our web shop, but if you want to discuss other options to give the secretaries as a gift or if you want to compile certain chocolate packets for example, then it might be better to do this by mail, telephone or with the order form. To avoid disappointment, we kindly ask you to order the Secretary Day chocolate gifts on time. You can always - without obligation - request a quote for your desired chocolate gifts. Immediately indicate for which products and which quantities you want to receive a quote, with clearly the corresponding invoice details and delivery address, so that the quote - and subsequently the invoice - can be started immediately and the secretary day chocolate gifts for your secretarial staff can be prepared and sent. turn into.