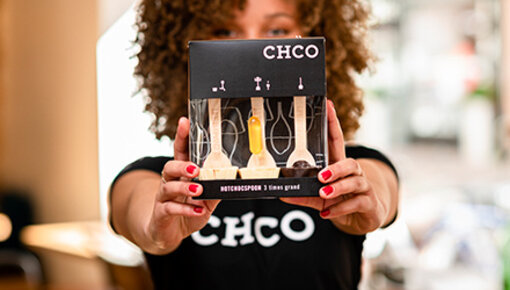 Our Hotchocspoon in more than 60 different flavors!
The Hotchocspoon is our hot chocolate, available in more than 60 different flavors. From creamy, white chocolate and delicious milk chocolate to intense pure flavors!
Read more
The Hotchocspoon is our great pride.
This is what we started: the Hotchocspoon is an endless adventure that started in 2004 to make the perfect one-person cup of chocolate milk with a chocolate spoon by testing different flavors, quantities and the tastiest ingredients you can imagine. Making hot chocolate using a chunk of chocolate on a wooden spoon. A 'chocolate spoon' with the motto 'Life Is Grand' was the result, because life is simply a party when you add chocolate to it and we wish everyone that!
Extensive range of flavors
White chocolate , chocolate with rum , vegan chocolate and even gluten-free chocolate: it's all there! The range includes well-known and popular flavors, such as the Salty Caramel, Brownie, Cookie Dough, as well as very unique flavors, such as the Strawberry Pink Pepper, Blueberry Honey Roasted Thyme and Ginger Lemongrass. Quality chocolate along with other delicious ingredients make the most delicious combinations. Our chocolate chefs have loved it for days, weeks, months and even years and still pay personal attention to each recipe to this day to ensure that everyone dreams of a hot cup of chocolate.
Make your own hot chocolate
Fill your mug with approximately 200 ml of heated milk of your choice (think whole milk, but also vegetable types, such as almond, soy and coconut milk). Then choose your favorite Hotchocspoon flavor and stir the chocolate bars into the milk for at least 1 minute. Watch the delicious chocolate chunk melt away from the Hotchocspoon, while you stir and then enjoy your homemade hot chocolate! View here how you can make your own chocolate milk with our Hotchocspoon.
Hotchocspoon of the best quality chocolate especially for you
At Chocolate Company we believe it is very important to introduce our customers to the best quality chocolate available and we want to implement our motto 'Life Is Grand' in everything we do. That is why we also work for the Hotchocspoon with Cacao-Trace chocolate: a program for sustainable cocoa of high quality that strives for better chocolate with benefits for everyone and that builds on the local knowledge and expertise of the cocoa farmer. For example, you can order the best chocolate online to make the best chocolate milk at home or simply to make someone very happy by giving the chocolate spoon as a gift.
Buy hotchocspoon
In our webshop you can buy a chocolate milk spoon in more than 60 different flavors! Do you choose chocolate milk with drink or are you going to buy white chocolate? Whatever flavor of Hotchocspoon you go for: if you order before 14:00 today, your Hotchocspoon will be delivered tomorrow. Orders from € 30 are even shipped for free, so feel free to choose a tasty Hotchocspoon to give as a gift or buy one extra to enjoy yourself.