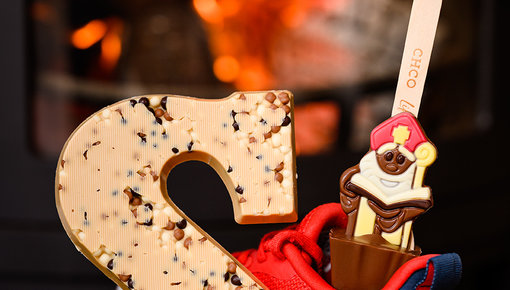 Celebrate Sinterklaas with the tastiest artisan chocolate letters!
Buy Sinterklaas chocolate.
Sinterklaas and Piet are (almost) back in the country and the children are already busy with surprises and the arrival of that sweet, good Saint. Well, not just little kids. Adults can also thoroughly enjoy a Sinterklaas parade, but the best thing about this party is the handing out (and receiving!) of presents. Chocolate in particular is the favorite gift of many. At Chocolate Company we understand that with Sinterklaas comes delicious chocolate. Sinterklaas chocolate to be exact. Traditional, fun, tasty and with beautiful decorations. You can buy our Sinterklaas chocolate in our twenty Chocolate Company Cafés, but to make it easier for you – in case you are just a bit too far from a chocolate café – we also have our delicious Sinterklaas chocolate available online for you. Choose your favorite chocolate for Sinterklaas, order and let the fun begin. Good to know: orders placed on weekdays before 14:00, we try to deliver the next day! No more last minute stress to give the best Sinterklaas present.
Sinterklaas chocolate letters and shoe presents.
Our favorites – and yes, yours too – are our artisanal Sinterklaas chocolate letters. Available in two milk variants and one pure variant, so that there is something for everyone. With nice decoration, fresh nuts and fruit or super cute and colorful smarties. Especially for children or adults who simply love a chocolate party. We also have a small Sinterklaas chocolate bar! Of course, our hotchocspoon cannot be missed in this Sinterklaas range. With the Sinterklaas hotchocspoon you have the perfect shoe gift for young and old! Nice and certainly tasty, as soon as you make delicious hot chocolate from it. You can also create a nice Sinterklaas shoe gift by, for example, combining the Sinterklaas hotchocspoon with the Sinterklaas chocbar, chocolate letter or one of our other products from our total range. You choose and we deliver the gift!
Sinterklaas chocolate gift for staff and relations.
With our authentic Sinterklaas party you also want to give your staff and/or relations the festive feeling by giving a nice Sinterklaas chocolate gift. All combinations are possible, such as a gift package with a Sinterklaas hotchocspoon, Sinterklaas chocbar and, for example, a small box with traditional bombons . Large print runs are certainly possible, but it would be nice to contact our colleagues from the webshop well in advance - via WhatsApp, by mail or by phone - to ensure that your Sinterklaas chocolate is delivered on time and correctly.