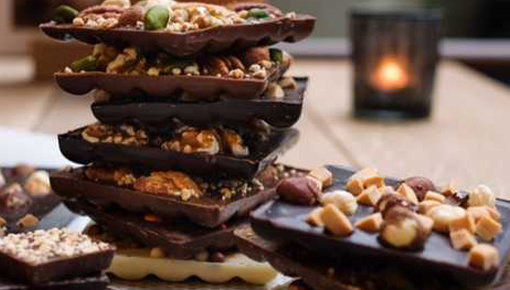 Handmade, delicious chocolate bars
chocolate bars, chocolate, chocolate bars, mendiants, mini-chocolate
Read more
For the ultimate chocolate lover! A nice mix of 4 different chocolate bars. Enjoy white, milk and pure chocolate flavors.
Milk chocolate choc bars as a luxury chocolate gift! Creamy, tasty and a nice surprise for the taste buds.
Four delicious dark chocolate bars. Let us know if you have a preference for specific flavours, otherwise we will surprise you with our favourites!
These sweet bars of happiness are made from milk chocolate, melt on your tongue and seem to get better with every bite.
Gratis verzending vanaf €30,-
Till 14:00, the next day delivered
Really tasty dark chocolate bars with different toppings and flavors!
Creamy white chocolate and different toppings: three gems among white chocolate lovers!
A mega-sized chocolate bar with a beautiful red heart: for when love overflows!


A look at our extensive range of chocbars and chocbites. Each bar is still handmade in our workshop in Limburg, using the finest recipes. You not only taste this personal attention in our chocolates (our "Bombons"), but also in every bar and bite.

And if you dare to go really pure, you should definitely try our 99%. You will not believe that a 99% can taste so smooth.  And at 99% it is pretty healthy too!