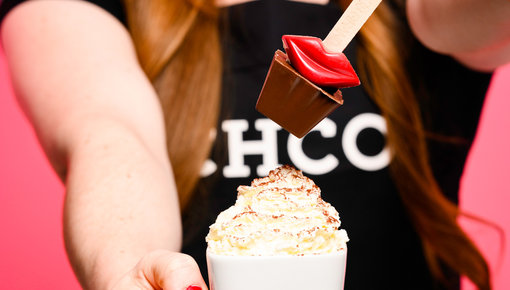 Your Valentine's gift is complete with chocolate!
Love goes through the stomach and we all know that ;) Give your loved one the best Valentine chocolate in the shape of hearts. The best artisan chocolate is the perfect way to show your love on Valentine's Day.
Read more
Order chocolate for Valentine's Day.
You may be thinking of flowers or jewelry for Valentine's Day, but we all know that love goes through the stomach. ;) Chocolate is love that you can buy and show to your loved one on Valentine's Day. And as love comes Valentine chocolate comes in many different shapes, sizes and colors. Surprise your Valentine on Valentine's Day with heartwarming hot chocolate. We have these in two types of Hotchocspoons , specially made for love with lots of love. Do you want your Valentine to enjoy a cup of hot chocolate right away? Then choose our CHCO mug to go with it. If your loved one is more of a fan of delicious chocolates , we also have them in white, milk or dark chocolate. Valentine chocolates in rounds or hearts; you choose, we deliver. In our range you will also find XL chocolate bars for your Valentine, for when love overflows! Choose our Love card for the chocolate Valentine's gift, enter your personal text in the comments field when ordering - this can be done on the last page of the ordering process - fill in the correct address and all other details, choose a desired day and time and let let us do the rest! We ensure that the text is printed on the card, that the chocolate gift is nicely wrapped and that it is sent properly. Ordering your Valentine's chocolate on weekdays until 14:00 means that it has already been delivered the next day ! You can have Valentine chocolate sent directly to your Valentine, but we can also have it delivered to your own address, so that you can surprise your Valentine in person.
Online gift cards for a Valentine's outing.
Can't you choose from all the Valentine's goodies that we have online or do you want something extra for your loved one in addition to your Valentine's chocolate? Then choose a chocolate gift voucher for Valentine's Day! You can choose from different amounts, which you can spend in a Chocolate Company Café of your choice. Have a nice lunch with your Valentine - we have different sandwiches, salads and toasties - have a drink or stare into each other's eyes romantically on Valentine's Day, while you enjoy a Crazy Coldchoc together. Sounds good, right? You can also buy a gift voucher worth a High Choc for a fun outing together on Valentine's Day! The tastiest cakes, traditional (Valentine's Day) bonbons, unlimited tea, other snacks and much more that you can enjoy together in our Chocolate Company Cafés . You can easily order online, reserve at your desired location and enjoy Valentine's Day! Your Valentine's love also goes through the stomach, we promise. A week later, your Valentine simply orders in our online webshop to enjoy all the goodies again.