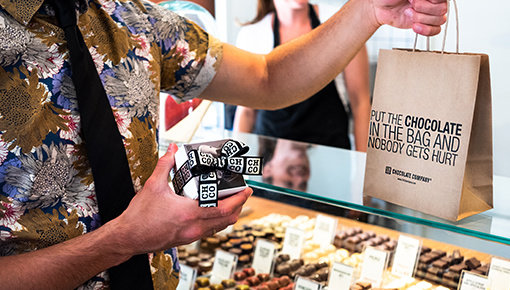 The tastiest Father's Day chocolate for the toughest and sweetest daddies!
Artisanally made bonbons, chocolate truffles, cool chocolate bars and more goodies.
Read more
Father's day chocolate
Do you have or know a sweet father who deserves to be put in the limelight? Then choose Father's Day chocolate as the perfect Father's Day gift, because even for those tough daddies, showing love just goes through the stomach;) To keep it somewhat masculine, we have put together the toughest chocolate products from our range for you as Father's Day chocolate. For example, choose a nice mix of dark chocolate bonbons in a 150 gram, 300 gram or 650 gram candy box if you know a sweet father who has a big sweet tooth. We also have our handmade chocolates in a luxury gift box with 15 pieces of chocolates or a Collection box with no less than 25 delicious chocolates. Is Father's Day chocolate intended for a father who loves the purest chocolate? Then choose our 72% classic chocolate truffles! Speaking of chocolate truffles, we also have pots of truffles in different flavors, such as delicious hazelnut, salty caramel and dark cocoa as Father's Day chocolate. If the father you want to surprise is not with the bonbons and truffles, we also have our chocbar gift box - in milk, dark or mixed chocolate - as a super nice Father's Day chocolate gift. If you prefer anything, you can also thank the dearest father with our 'thank you very much' chocolate package .
Buy Father's Day chocolate
You can order your favorite Father's Day chocolate online in our webshop. Ordering on weekdays until 2 pm means that you will receive it the next day at your specified address! So don't worry about buying last-minute Father's Day chocolate. It's easy and quick to order with our ordering process and you can also add your personal message as a gift message. If you prefer to buy your Father's Day chocolate in one of our physical stores, that is also possible. In all Chocolate Company Cafés you can go to the artisan chocolate shop for all the above products and more. You can also take your dearest father, partner or other topper of a father to one of our Chocolate Company Cafés for a nice lunch. You can choose from sandwiches and salads, such as the Veggie avocado lover salad or a Mozzarella Caprese sandwich. Have you already had lunch and would you rather go for something else? Treat the sweetest father you know to a delicious chocolate fondue or High Tea / Choc. Conviviality with cake, chocolate, unlimited tea, savory snacks and more: original and also for the tough father, this is pure love that goes through the stomach!