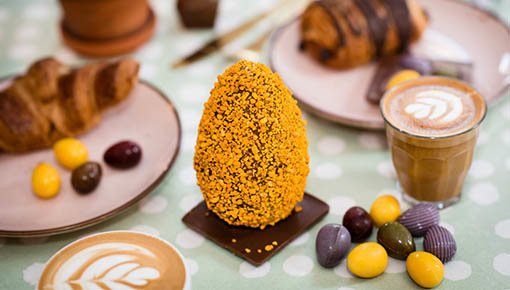 Easter asks for eggs-tra chocolate!
Looking for delicious Easter chocolate? Order on Chocolate Company handmade Easter eggs and other Easter chocolate!
Read more
Luxury, specially selected for Easter, bonbons with delicious flavors and extra large to enjoy endlessly!
A colorful 20 cm high Easter egg made from creamy milk chocolate! A great gift for Easter.
A traditional, sturdy Easter egg, 20 cm high, made from creamy milk chocolate! A great gift for Easter.
Fresh fruit, cookies, marshmallows ánd our chocolate fondue set. Nothing better than this! Choose one of our 13 (!) flavours!*
Let op! Ophalen en bezorgen nu ook met jouw lokale CHCO Café! Na jouw bestelling nemen wij contact op over verdere afhandeling.
Wij streven er naar om op werkdagen alle bestellingen die voor 14 uur zijn geplaatst de volgende dag uit te te leveren.
Bedankt voor jouw steun, support & begrip in deze periode!
This colorful Easter egg made from creamy milk chocolate is 12.5 cm high and weighs 150 grams, so endless enjoyment guaranteed!
Limited Edition: a large chocolate sheep of 20 cm to create the best Easter table!
One of our easter hotchocspoons with our CHCO mug for an ultimate tasty and warm easter moment.
Have a most delicious handmade Chocolate Easter. Chocolate Easter eggs, an original chocolate Easter bunny and other Easter chocolate for yourself to enjoy or gift... Order online now!

Our Easter eggs come in XL mega eggs in dark, milk and crunchy varieties or the finest solid and filled chocolate eggs. Flavors such as almond praline as well as chocolate eggs with milk and dark chocolate, even 72% cocoa!