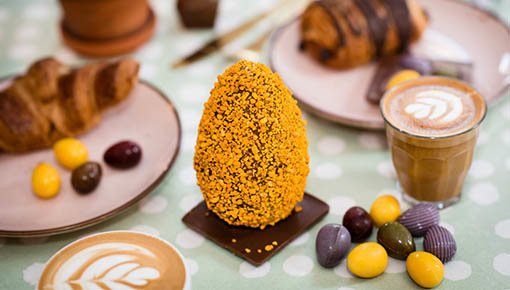 The tastiest and happiest Easter chocolate!
With us you will find Easter bonbons and other artisan chocolate products for your Easter table!
Read more
Order Easter chocolate
Spice up the Easter table with the tastiest handmade Easter chocolate? There is plenty of choice in our Easter range ! For example, opt for luxury chocolate Easter eggs. Available in three different variants and two different sizes, such as the colorful XL Easter egg which is a large Easter egg variant. Or go for a happy and fun Easter Hotchocspoon to experience the best hot chocolate! Choose the sheep, rabbit or one of the two ducks. Can also be ordered directly with our CHCO mug , which clearly states where to pour the hot milk to create the perfect hot chocolate at Easter. In addition, we also have luxury Easter chocolate in the form of bonbons ! Available in a luxury gift box with 15 pieces of Easter bonbons or a small box with 5 pieces. Made from delicious Cacao-Trace chocolate filled with different flavors, such as eggnog, salty caramel and praline nougat. Choose your favorite, cheerful Easter chocolate and order easily and quickly on our webshop. Even better: ordering on weekdays until 2 p.m. means that your Easter chocolate will be delivered the next day! Have it delivered to your own address or to another address if the Easter chocolate is intended as an Easter gift and you want to make an Easter package of all available Easter chocolate from our range.
Easter chocolate for staff or relations
Easter chocolate as a promotional gift or for your staff? That is also possible. You can order your Easter chocolate from us as a gift for Easter in three different ways. You order directly via the webshop if you have already decided which Easter chocolate you want to order or you order with the order form and send it to [email protected] or you contact us directly by e-mail or telephone via the aforementioned e-mail address or +31 682077232. To avoid disappointment, we kindly ask you to order the Easter chocolate gifts on time. You can always - without obligation - request a quote for your desired Easter chocolate. You can do this, as mentioned before, by phone, email or with the order form at the bottom of the page. Immediately indicate for which products and what quantities you would like to receive a quotation, along with the corresponding invoice details and delivery address, so that the quotation - and subsequently the invoice - can be started immediately and the Easter chocolate prepared and sent for your staff or relations. to become.