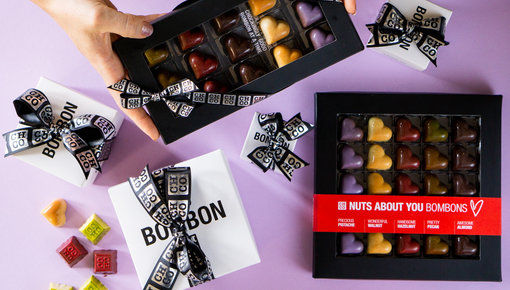 Handmade chocolates in various shapes and delicious flavors!
We don't call our chocolate bonbons BOMbon for nothing: they are full of flavor! The combination of quality chocolate and delicious fillings makes a unique picture.
Read more
Bestellingen tot 14 uur worden de volgende werkdag geleverd maar door drukte bij de post kan dit langer duren dan gebruikelijk.
Handmade bonbons
We call our handmade bonbons internally BOMbons, because they are full of flavor! This is due to the fact that each chocolate has received personal attention from our chocolate chefs and you can taste it! High-quality cocoa beans and the tastiest herbs and spices are used for this. Add to that the passion for cooking with chocolate and have the recipe for the tastiest heart-warming bonbons! Because of the passion and fun that comes with making chocolate, we have not stopped with 2, 5 or 10 bonbons. We have more than 20 types of bonbons in different shapes and flavors.
Our five bonbon series
At Chocolate Company you will find various kinds of bonbons. Our bonbons are divided into five different series with five different flavors in each series. You can choose from the Forbidden Fruits series, in which the flavors Raspberry, Cherry, Apple syrup caramelized biscuits, Mango caramel and Passion play the leading role. We also have the Nuts About You series, which makes every person fall head over heels in love after tasting the Hazelnut, Almond, Walnut, Pistachio or Pecan flavors! If you like the old classics, then we also have the Classic series with flavors such as the Dulce de leche, Salty Caramel, Vanilla, Jasmin and Almond praline. Another great series with real pure cocoa flavors is the Originals. This series contains the Peru, Madagascar, Tanzania, Venzuela and Ecuador bonbons. Last but not least we have the Delights bonbons, where you feel that you are eating a real dessert with every bite with the flavors Crème brûlée, Aperol, Coconut, Belgian cookie, Black forest and Apfelstrudel.
Buy bonbons to give as a gift
Do you want a super nice - and tasty - gift? Then choose to order our bonbons online in various types of candy boxes or quantities. We have the mini series which contains a small box containing the five series flavors of chocolates. We also have a 150 gram box and 300 gram box if you really want to surprise someone with a bonbon chocolate adventure. Do you really like someone or do you really want to thank someone for something, then we also have the 600 and 750 gram boxes in which a lot of delicious bonbons go. You can choose milk, pure or a mix box of artisan chocolates. If you want a box of chocolates with a more luxurious look, you can go for our gift boxes. All bonbons in our webshop can be ordered easily and quickly online. Do you want to go all the way with your chocolate gift? Then you can also go for our CHCO subscription , where you can surprise someone every 3, 6, 9 or 12 months with a gift box full of delicious bonbons!